!background="gifs/ctllogo1.gif">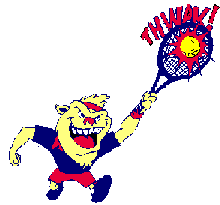 Colesville Tennis Ladder
End of Season Tournaments

Sept 15 ~ Oct 15 - now in progress
Email and Phone numbers of participants, click here.
Seven Draws in HTML Format click here .
Seven Draws in Excel Format click here .



<!bgcolor="f4faad">

Should we have Oct 16 - Nov 6 Tournaments?
Click here to sign up.


Sep 15 - Oct 15 Tournament
Past, Present and Future Matches:


1. 09/19 - Open Singles A - Joe Haggenmiller > Edgar Rodriguez 64,63
2. 09/19 - Open Singles A - Ernest Lacy > Rajnish Sinha - 61,60
3. 09/19 - Open Singles A - joe matulonis > sam shaibani 75,63
4. 09/21 - Open Singles A - Robert Chandler > John Prakash 63,75
5. 09/22 - Open Singles A - Steve Allen > Melvin Howard 64,61
6. 09/23 - Open Singles A - George Howard > Jose Baustista 62,62
7. 09/24 - Open Singles A - Okumura > Corran 63,75
8. 09/26 - Open Singles A - joe matulonis > stanley okumura 61,61
9. 09/30 - Open Singles A - George Howard > Joe Haggenmiller 67,76,63
10. 10/03 - Open Singles A - Chandler > Lacy - injury
11. 10/06 - Open Singles A - Bill McKenzie > Alain Moise 7-6 (8-6) 3-6, 6-2
12. 10/07 - Open Singels A - Chandler > G.Howard 6-2, 6-1
13. 10/12 - Open Singles A - Steve Allen > Bille McKenzie - default
14. 10/19 - Open Singles A - Steve Allen > Joe Matulonis - 64,61
15. ??/?? - Open Singles A - Steve Allen vs Bob Chandler ????

16. 09/22 - Open Singles B - Irving Westney > Vernon Clayton 16,64,63
17. 09/22 - Open Singles B - David Huang > A.J. Tuckley 63, 60
18. 10/03 - Open Singles B - Sam Lawhcharoen > Irving Westney 61,61

19. 09/20 - Open Singles C - Richard Blank > Don Diggs 60,75
20. 09/27 - Open Singles C - Joseph Ajayi> Barry Remley 57,62,61
21. 10/01 - Open Singles C - Chris Ratnayake > Forest Sen 64, 63
22. 10/05 - Open Singles C - Ajayi > Blank 7-5, 6-4
23. 10/11 - Open Singles C - Kujawa > Ratnayake 63, 62
24. 10/19 - Open Singles C - Elaine Kujawa > Joe Ajayi - 62,61

25. 09/23 - Womens Singles - Paulette McMillan > Chami Karandana 62,63
26. 09/24 - Womens Singles - Ellie Westney > Barry Remley 61,63
27. 09/28 - Womens Singles - Denise McKenzie > Donna Thompson default
28. 10/04 - Womens Singles - Elaine Kujawa > Elle Westney - 60,60

29. 10/07 - Womens Singles - Paulette McMillan will play Denise McKenzie - Thur - 10/7 - 9:30a


30. 09/19 - Womens Doubles - McKenzie/McMillan > Nelson/Jackson 61,64
31. 10/03 - Womens Doubles - McKenzie/McMillan > Pappas/Remley 63,61
32. 10/?? - Womens Doubles - Babel/Abbott > Karandana/Parris
33. 10/?? - Womens Doubles - Babel/Abbott > McKenzie/McMillan - 62,75

34. 09/23 - Mixed Doubles - Hatcher/Graham > Buch/Lee 63,75
35. 09/23 - Mixed Doubles - Williams/Moise > Parris/Howard default
36. 09/29 - Mixed Doubles - Hatcher/Graham > Westneys 76,61
37. 10/05 - Mixed Doubles - Tavris/McAlpine > McKenzies 7-6 (8-6), 6-2

38. 09/20 - Mens Doubles - McKenzie/Graham > Moise/Wilkerson 57,64, 64
39. 09/25 - Mens Doubles - Tavris/Liu > Remsley/Sinha 61,62
40. 09/25 - Mens Doubles - Chandler/Mandaiker > Clayton/Howard 57,63,62
41. 10/03 - Mens Doubles - Allen/Mount > Tavris/Liu 61,61
42. 10/04 - Mens Doubles - Chandler/Mandaiker > McKenzie/Graham 63, 75
43. 10/10 - Mens Doubles - Chandler/Mandaiker > Allen/Mount 16, 76, 76
44. 10/23-Mixed Doubles-Graham/Hatcher>Tarvis/McAlpine 7,5-6,1
45. 10/28 - Open Singles A - Allen > Chandler 63,31,injury



If you can't read all seven above, please email or 301-785-0826 or 301-595-5744.

Or try these:
Women's Singles, Women's Doubles, Mixed Doubles, Men's Doubles, Open Singles.

If there are no objections in the Draw, please contact your opponent(s)
as soon as possible and play your First Match by Saturday 9/25.

Questions or Suggestions:email
leave message at 301-595-5744
or try 301-785-0826(cell) <! <!a href="TourEOSDX.shtml" Mixed Doubles



Questions or suggestions:
email or 301-595-5744


Schedule: 
First  round by Saturday 9/25. 
Second round by Saturday 10/2.
Third  round by Saturday 10/9.


Free, but players must provide a new can of USTA approved balls.

Players must also arrange their own place and time to play. Sorry.

The player that makes the initial contact about where and
when to play, does not need to provide the balls. OK?
Or winner keeps the unopened can.

Best of three sets.
Players may play a 10 point tie breaker instead of a third set if everybody agrees.

If players are within seven of each other, players must
agree beforehand if the match should also count as a ladder match.

Single elimination. Once you lose, you are out. Sorry again.
But maybe we can have loser tournaments.