<! ******************** Table Column **************************************>
<!span style='font-family:"Comic Sans MS"'>

Current Plan – Two(2) Round Robins
at Braden Field Courts 1-6
All ten(10) players were to start at 9:00 am Saturday July 30
but most didn't start until around 9:25
(last updated Saturday July 29 4:00 pm)

Standings (games won in parens):
1) Women's: 1.Elaine(18), 2.Sri(14), 3.Mia(10), 4.Terry(6) (Details)
2) Men's : 1.Faustino(24),2.Joseph(17*),3.Rich(17*),4.Roberto(8),5.Premraj(6), 6.Dean(3) (Details)
* Joseph and Rich were tied with 17 wins but Joseph won the head-to-head tiebreak 3-2 so he finishes 2nd
&nbsp &nbsp Sunday "Final" Faustino Sanchez vs Kevin Murphy


The 4 women played 3 rounds of 8 no-ad games per round.
The 6 &nbsp men &nbsp played 5 rounds of 5 no-ad games per round.

The total # of games won will determine the winners. At the end of each round, please report the scores to the directors. Please use the score keepers attached to the net pole so we can all see what is happening. A final regular scoring set will be played in the event of a tie at the end of all rounds. Your directors are Jacquie Rose and Terry Henderson - court side phone is 240-601-0364. 

Prizes will include choices between t-shirts, trophies, and cans of balls.

Good Luck!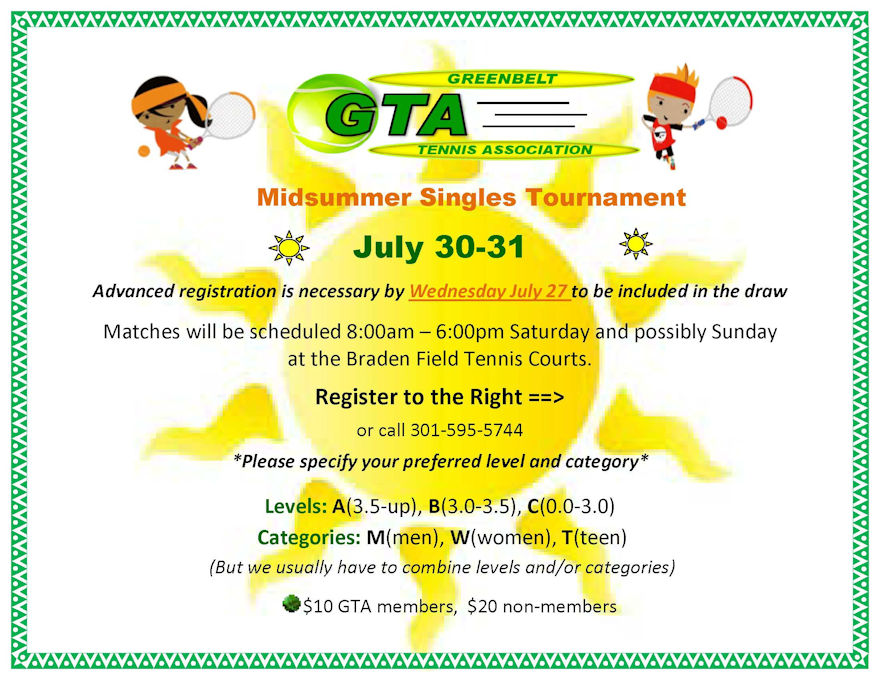 Braden Courts, Greenbelt
(Directions)


Questions/Suggestions/Corrections: please email or 301-595-5744 <! ******************** Table Column **************************************>
<!img src="http://www.tennisladders.com/cgi-bin/rand_image4th.pl">
Women – 9:00
Marlene Paucar A W 
Elaine Kujawa 
Sri Pratima Nandamuri A
Mia Douglas W T ~16 y.o. 
Men A – Sunday
Kevin Murphy A
Men – Saturday 9:00
Joseph Lyu, B or A, M 
Faustino Sanchez A 
Dean Ogata C M 
Roberto Paucar C M 
Jim Harbaugh B M 
Premraj Rajkumar B, M

Sign Up
Enter Name,
Level,Category
Below:
To register, mail or email this form: (pdf) or send (email) or call 301.345.1014 or sign up above.

You can pay gta@greenbelt.com at
(PayPal.com) <!IMG src=http://www.tennisladders.com/Greenbelt/Pix/AlHargraveMemorialDoubles2015_left.jpg width=850>