<!width=70%>
<!span style='font-family:"Monotype Corsiva"' size=10> <!font face="Monotype Corsiva" font size="6px">


David Craig Memorial
Doubles Tournament
Sat-Sun Oct 6-7
Register by Wed Oct 3

Matches will be scheduled 9:00am – 6:00pm Saturday and possibly Sunday. 
$10 GTA members, $20 non-members
Advance payment can be made via (PayPal) to gta@greenbelt.com

A portion of the proceeds will be donated to the
David Craig Memorial Scholarship Fund.

Sign up below or (email) or call 301-802-4336 or 301-595-5744

*Please specify your preferred level and category*
Levels(team average): A(3.5-up), B(3.0-3.5), C(0.0-3.0)
Categories: M(men), W(women), X(mixed)
(But we usually have to combine levels and/or categories)

Braden Field Tennis Courts, Greenbelt, MD (Directions)

We cancelled because there aren't
enough players of the same level.
Can anybody think of Draws,
Round Robins or Other with the
list of players below?
Please (email) or 301-595-5744.

No Partner for Doubles? No problem, we will match you up as we are able.

Doubles Sign Up below
Doubles – Have Partner – Oct 6-7

Signed up so far:
&nbsp&nbsp 2.Vernon Clayton & Melvin Howard A
&nbsp&nbsp 1.Morty Lymore,4.0 Michael Brown,4.0
Morty & Michael,
How do we contact you?
Please send (email)

Doubles – Need Partner – Oct 6-7

Signed up so far:
&nbsp&nbsp 7.Robert Toney. A. M or X.
&nbsp&nbsp 6.Baboyma Kagniniwa,B,X
&nbsp&nbsp 5.Adeline Wilcox, C, W
&nbsp&nbsp 4.Ottilie Wilcox, B, W
&nbsp&nbsp 3.Richard Briggs A,M >noon Sat ???
&nbsp&nbsp 2. Marcus Forrester A,M ???
&nbsp&nbsp 1.Sandy Cooke, B or C, W

&nbsp &nbsp &nbsp &nbsp &nbsp
Sep 29 Singles
Format was Round Robin:
1 regular set per round.
Click for more pictures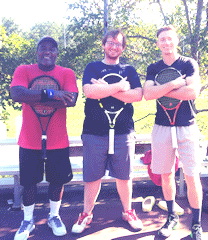 player setsW-L[games won]:
Vernon Clayton(champion)3-0[18],
Philip Wilson 0-3[5],
Andrew Kennedy(finalist)2-1[14]
Joseph Lyu missing 1-2[7]
Click for more pictures <!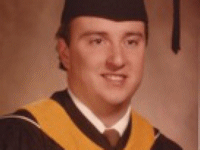 <!span style='font-family:"Verdana"' size="12px"> <!font face="Monotype Corsiva" size="4px"><!"5px">

David Craig
In 1984, a train struck David Craig's
car at the Sunnyside and Beltsville
train crossing, ending the life of the
popular Eleanor Roosevelt
High School graduate '79.

Since Craig died, his friends have
continued to raise funds in his name
for an Eleanor Roosevelt
High School senior.

A non-traditional scholarship, it gives
seniors with Craig-like attitudes points.

Links: (1, 2).

The scholarship motto is
"Well Rounded –
Well Rewarded."