Greenbelt
Tennis Association
June 11,2011
Social
8:00 am to 2:00 pm

Braden Field Tennis Courts(6)
(Directions)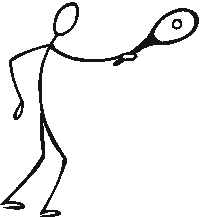 <!img src="http://www.tennisladders.com/gifs/BradenFieldCourts.jpg">
All ages and levels welcome.
GTA will provide
Tennis balls, snacks and drinks.
Bring your own reusable water container.

non-GTA members $5
GTA members Free

Please pre-register
(so we can get an estimate)
or just show up!

Probable Format:
Rotate every 30-minutes.
But suggestions welcome.

GTA membership
is only $15 per year.
Go here: (doc, pdf) to join. <!


For more information,
or to offer suggestions,
please call
301-595-5744
or send Email.
Thank you,
40 attended.
*=2 didn't play:

1 Adams,Michelle
2 Austin,Damon
3 Bailey,Mark
4 Baker,Matt
5 Baldino,Sue*
6 Baldino,Tom
7 Bassett,Bob
8 Blank,Richard
9 Briggs,Richard
10 Cannizzo,John
11 Carey,Tony
12 Cartron,Jeanette
13 Dea,June
14 Detherage,Kevin
15 Gotcher,Dennis
16 Green,Eliza
17 Hale,Lew
18 Harbaugh,Jim
19 Hargrave,Al
20 Ingraham,Lisa
21 Jordan,Emmett
22 LaRoche,Jerome
23 Lord,Allen
24 Lowe,Nellie
25 Majewski,Rich
26 Martin,Horace
27 Maslog,Paulito
28 Mazursky,Errol
29 Moghimi,Farshid
30 Ogata,Dean
31 Rutledge,Terri
32 Sain,Sam*
33 Showlund,Linda
34 Stecker,Floyd
35 Turnage,Jim
36 Waterbury,Steve
37 Weaver,Dan
38 Wilkerson,Bill
39 Willis,Verlinda
40 Wynter,Clifton